Shed Dead Skin While Improving Foot And Leg Circulation!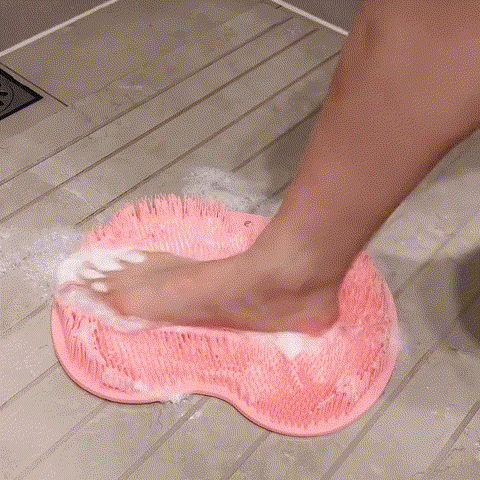 Foot spa treatments for your feet in your daily bath and shower. Our foot scrubbers are designed to give you the ultimate foot spa experience in the comfort of your own home.
Our Lazy Bath Massage Pad features over a thousand massage bristles for the ultimate invigorating brushing action. Removes dead skin and thoroughly cleans soapy feet, including the often neglected areas between your toes; with a strong suction cup on the back to prevent slippage. This foot scrubber not only cleans your feet, but also improves circulation and gives you the extra energy you need to start the day.
Translated with www.DeepL.com/Translator (free version)
Features:
HEALTHY CLEANSING + BOOSTING FOOT CIRCULATION: Stimulates foot circulation and blood flow, producing a feeling of well-being throughout the body. Softens, rejuvenates and prevents dry feet, calluses and other foot ailments such as athletes' feet.
DURABLE AND EASY TO USE: Our lazy bath massage pads are made from * high quality materials and will last for years. This foot brush is very easy to use and is especially recommended for people with hip and back problems - there is no need to bend over with our lazy bath massage mat; perfect for use in the shower or bath.
Made from * high quality materials - our lazy bath massage mat will last for years. You can easily wash it under running water and then air dry it naturally.
There is a nice ring at the top - so you can hang it up and let it air dry.
No need to bend over - just move your feet back and forth on the bristles to massage and scrub them. Especially recommended for people with hip and back problems. Cleaning your feet has never been easier!
Plenty of cleaning bristles, long and soft enough to clean your feet comfortably.
For the whole family. You'll find your family will love it, especially the children. Lots of fun in the bath.
Suitable for anyone who likes to use flip-flops. It provides a great massage as well as cleaning the feet. Our lazy bath massage mat stimulates circulation and blood flow to the feet. Regular use produces a feeling of total well-being and health.
PACKAGE INCLUDES:
1 x Lazy Bath Massage Pad